Australian Paramedic Diary 2017
Australian Paramedic Diary 2017
A great tool to reflect on rosters, shifts and handy resources!
Product Description
Australian Paramedic Diary 2017 – Now in stock & available with FREE shipping for immediate delivery. A fantastic Christmas present for you new paramedic, nurse or paramedic student – maybe even a great little gift for your clinical mentor!!
Suitable for paramedics, student paramedics, nurses, doctors – pre & out of hospital and in hospital professionals!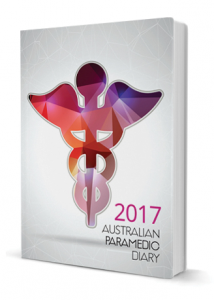 All Ambo's – a great tool for you to keep track of your shifts times in for referencing when completing your e-Timesheets! 
The Australian Paramedic Diary 2017 edition is a great pocket sized handy diary and reference source. This will easily fit into your uniform pockets. The diary has many features including, but not limited to: personal details, yearly planners for 2017 & 2018, yearly and monthly roster / class planners, incidents diary, metric conversions table, 365 day calendar for 2017, interpretation pages with medical questions for your patients covering eight languages, medical abbreviations pages, useful contacts, stress management tips, Mental State Exam, infusion rates, Body Mass index, ECG reference including 12 Lead ECG tool, drug calculation formulas, IV / drip rate guides, blood donor groups, Rule of 9's burns reference, APGAR Score, Wong Baker Faces pain rating scale, Paediatric GCS, dementia patients, pilates for paramedics, workplace reflections, resuscitation BLS, ALS & ALS infants & children, some points about social media, code of conduct guidelines.
The Australian Paramedic Diary 2017 edition is now on sale and sales will be filled on a 'first in, first served' basis. Get your order in now to avoid disappointment! Only $15.95 each, plus $1.95 postage and handling Australia wide.
The Australian Paramedic Diary 2017 edition would make a great gift for anyone you know who is a paramedic or nurse, or a student undertaking studies in any of these fields. Need a gift for a Clinical Mentor, a birthday, graduation or Christmas? Then the Australian Paramedic Diary 2017 edition is an ideal gift!
Your Australian Paramedic Diary 2017 edition has been proudly supported by the Ambulance Provident Fund