AED Plus electrodes
ZOLL's Full-Rescue AED features CPR D-padz, a one-piece, pre-connected electrode with Real CPR Help® feedback.
Product Description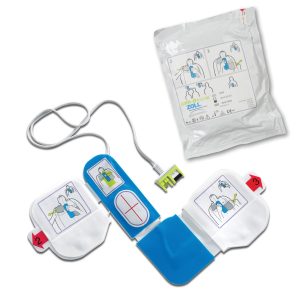 CPR-D padz RRP $150 (GST exempt)
Features
• Suitable for adults and children aged 8+ (25+ kg)
• One electrode fits all design
• Simplified electrode placement
• Supports real CPR help providing interactive feedback for rate and depth
The CPR-D padz supports real CPR help providing the rescuer the best real-time feedback to optimise the patient's likelihood of return of spontaneous circulation. Real CPR help includes a compression depth indicator, a compression rate indicator, a lapse time indicator, a CPR index and audio/message prompting.
Changing Pads and Batteries
You may also like…